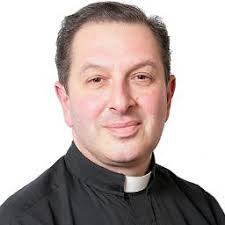 In 2005, Fr. Alex Santora became the 16th pastor of Our Lady of Grace Church and the administrator of St. Joseph's Church. Three years later, the two Churches merged to become The Church of Our Lady of Grace and St. Joseph. Fr. Santora continued as pastor of the merged parish.

Fr. Santora brings a valuable and diverse education and experience to his current post. Prior to coming to The Church of Our Lady of Grace and St. Joseph, he served in several churches throughout NJ. In addition, Fr. Santora holds advanced degrees from several prestigious universities. His resume includes impressive and innovative contributions in several areas, such as in counseling for religious and community groups, in instructing at several schools and colleges, and in advising as state-appointed member of the Jersey City Board of Education. Furthermore, he is a published author and for many years has been the Religion Columnist for The Jersey Journal.
As pastor of The Church of Our Lady of Grace and St. Joseph, Fr. Santora instituted the annual FunFest, Flea Market & Used Book Sale, Spaghettiaoke, and musical concerts to attract people to the parish. In 2006, with the establishment of a young adult ministry, a Sunday evening Mass was begun. This Mass is popular with people of all ages.
Fr. Santora's unique and easygoing style might belie his deep commitment to God, to his parishioners, and to our church. However, through his commitment and his solid work ethic, he has reinvigorated the life of our parish as well as reinvigorating the entire Hoboken community.
In October 2022, Fr. Santora celebrated the 40th anniversary of his Ordination.
We invite you to read Fr. Santora's weekly message on page two of the church bulletin by clicking here!